What is a Smart Home?
A smart home allows you to control your internet-connected home devices, such as lighting, heating, and electronic devices, remotely through your smartphone. This gives you more flexibility, from turning on your heat when you're leaving the office to turning off the switch to your hair dryer after you've left the house in the morning.  These features allow you more control over your heating and electricity bills as you have access to your home's devices wherever you are. Also, these technologies provide customers with more accurate estimates of your electricity usage. This is particularly useful for dealing with energy bills and consumption.
Where should I start?
Heating:
Bord Gáis Energy offers customers the 'Hive Active Heating' smart thermostat which allows homeowners complete control over their heating and hot water through any smart device. Alternatively, Electric Ireland offer the 'The Google Nest' Learning Thermostat which lets customers control their home heating from any connected device.
Contact your energy provider to discuss smart thermostat options for your home.
Smart Speakers:
The Amazon Echo Dot, powered by the virtual assistant Alexa, allows you to play music, make to-do lists, set alarms and listen to real time information such as the news, weather, traffic and sports updates. At the higher end of the market is Apple's HomePod. Similar to Alexa, the HomePod is a powerful speaker that is powered by Apple's Siri. There are many options now on the market so it's worth shopping around before making a purchase.
Security:

 
Smart video doorbells and cameras, such as Ring, Nest and Hive are becoming very popular. The camera allows homeowners to see who's ringing their doorbell before opening it. Many customers have installed these devices in the home's of their elderly parents as an extra layer of security. The added peace of mind using smart doorbells truly enhances home security.
"Smart home technology benefits the consumer, the environment and the economy"
– Colin Bebbington, retail director with Bord Gáis Energy.
---
How can MFCU help?
If you're looking to take the plunge with a smart home transformation, take a look at our loan calculator to estimate your loan repayments. If you'd prefer, you can call us at our Member Services Centre (MSC) at (01) 851 3400 or visit any of our MFCU branches to discuss your loan options. To see our MSC and branch opening hours, please click here.
Not a member? Not a problem.
To join Member First Credit Union, you can apply full online through our website in a matter of minutes. Click here to join MFCU today.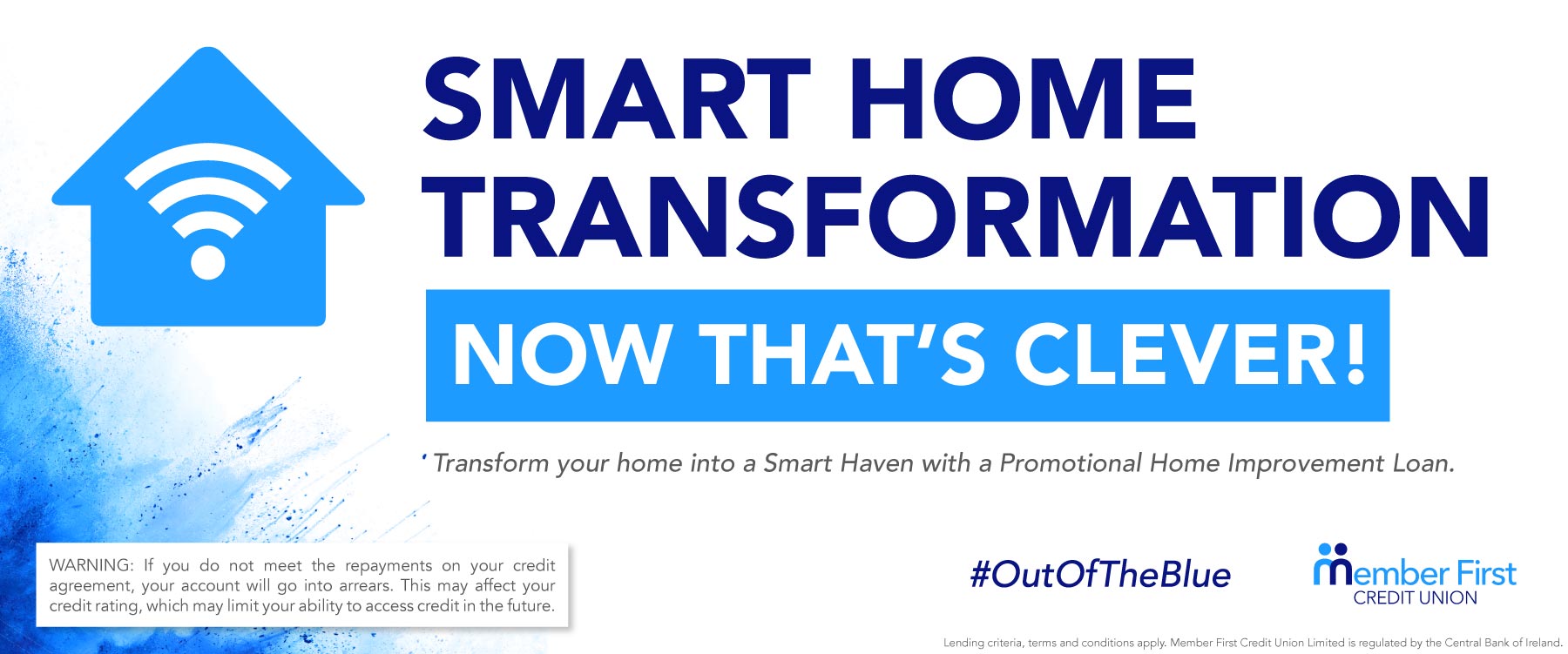 Lending criteria, terms and conditions apply.
WARNING: If you do not meet the repayments on your loan, your account will go into arrears. This may affect your credit rating which may limit your ability to access credit in the future.